Hey there, I hope you are doing great in this time of the pandemic. We all are at home scrolling youtube feeds on our mobile phones, being a fan of anime, since when I first watched naruto, yaa really! The connection that I feel watching anime was exuberant and I know that it feels the same to you also. Since that time I have never stopped watching anime and the list of anime series that I have watched till now is endless. 
Moving on….
The most popular anime, with super animation, suspense, horror, romantic, and with all your fav genre, that you can watch this year if you haven't:
#1 Attack on Titan
With a wide range of audiences around the globe, this anime series has taken over many people's minds and hearts. Till now Attack on Titan has 4 seasons and made a profit of ($1.8 million), and the sales of this series were recorded at about ($75 million). 
The story of Attack on Titian goes like this: When huge monsters(titans) 1st appeared 100 years ago, the lowly humans found themselves safe behind the massive walls that stopped those colossal titans. But their safety nearly collapsed when a giant titan smashed through the great walls, entering the human's safe zone.
The wave of giant titans flooded the safe zone of humans, while this time the protagonist EREN JAEGER encounters the harsh murdering of her mother in front of his eyes, his mother being eaten by the titan, which ultimately leads him to take a vow that he will kill every titan…..
You can watch this anime on various platforms like Funimation, Crunchyroll, Netflix, etc.
#2 DR. STONE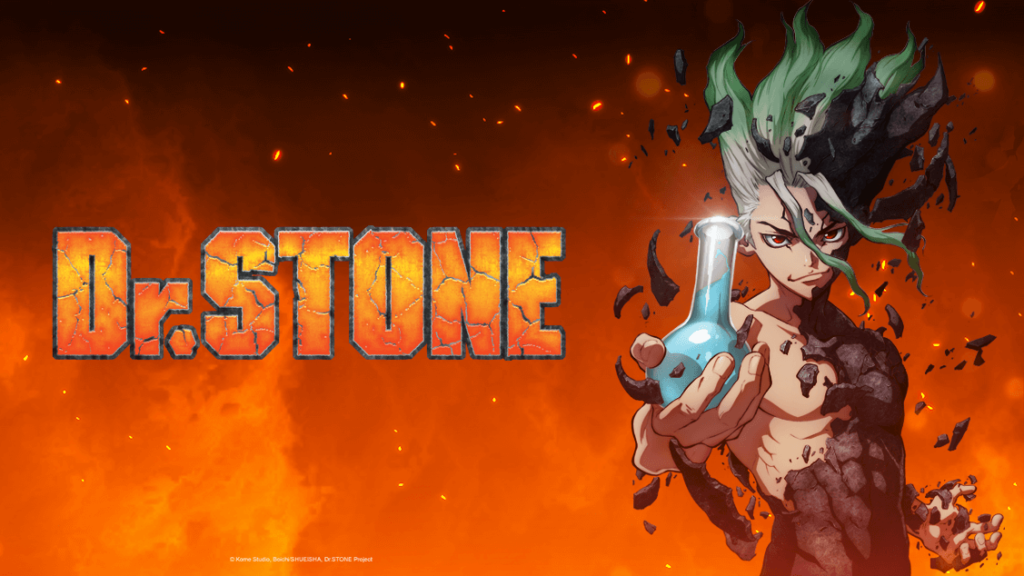 Popularity :
The main reason for this anime series being so popular is the storyline of this series.
Only 2 seasons have been released till now.
The science used in this anime series is very much comparable to the real world.
The people who love science must watch this anime series. Conducting many different science experiments on the ground level is the ambition of some science geeks, equally in the DR.STONE, has some cool and awesome incidents that deal with science.
No spoilers!
DR.STONE, The animation used is truly Powerful, it is so smooth and satisfying to the eyes, the research that has gone to produce all the scientific experimentally recognisable and to be honoured by every viewer.
The story goes like this: The boys awaken into the world where all humanity has been petrified, the two science geeks (senku and taiju) use their scientific knowledge and skills to rebuild civilization again….
 You can watch it on famous platforms of anime like Crunchyroll, Funimation, Netflix, etc.
#3 Jujutsu Kaisen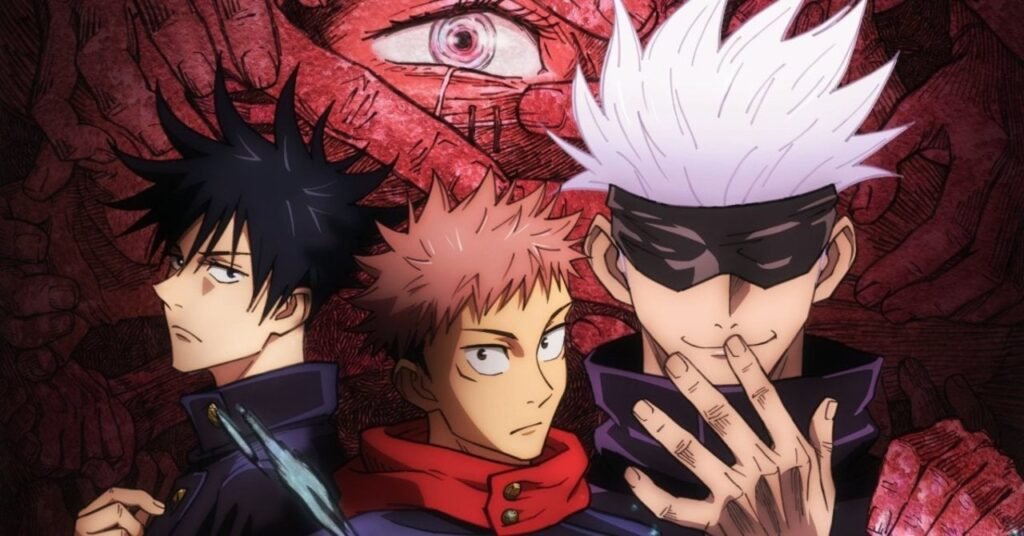 Jujutsu Kaisen is a Japanese manga series made by the great efforts of Gege Akutami. Since 2018 being serialized in weekly shonen jumps by Shueisha. Most famous magazine in japan in the context of manga.  
Recently released Jujutsu Kaisen serialized and anticipated by Viz media, this manga has a huge fanbase releasing 24 episodes in all, having 15 volumes in all till now.
A boy named Itadori Yuji is a sports lover, one day he ates the talisman – one of the fingers of a demon and cursed himself lol!. Later he joined the shaman's school so that he can locate the demon's other body parts and thus exorcise himself……
Why to watch this series:
With a super cool animation, this anime contains a lot of new things that you will learn, action and fighting skills are on another level of each character in the story.
Only 24 in all.
Very interesting and awesome characters.
Huge fan base around the globe in a very transient time.
40 million copies sold. 
Blend in such a form that it includes different genres. 
Characters depict Japanese culture.
You can watch this anime on various platforms like Crunchyroll, Netflix etc.
#4 The Promised Neverland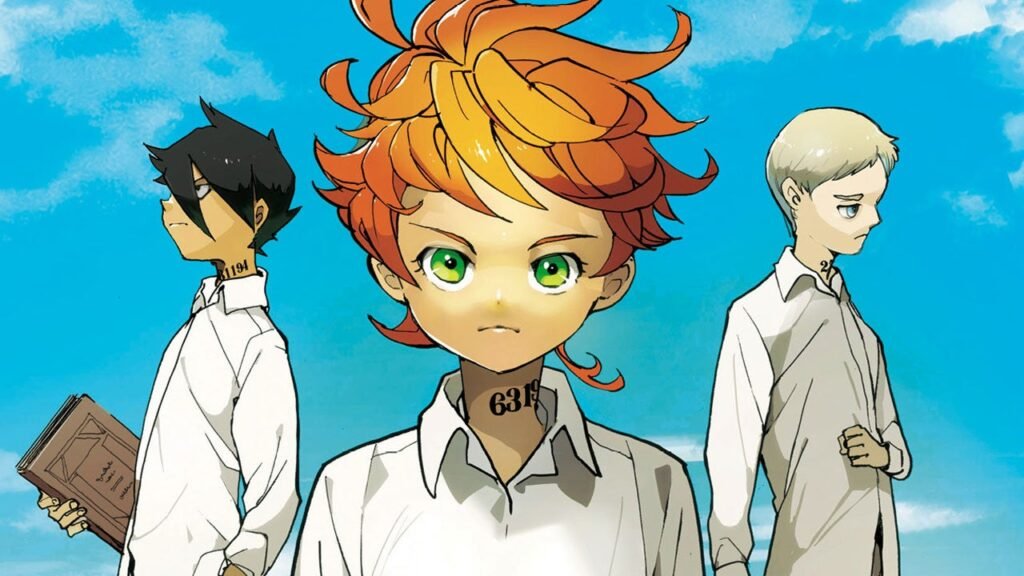 The Promised Neverland is a manga series written by Kaiu Shirai and animated by Posuka Dmizu. From August 2016 to June 2020 it was serialized in the weekly shonen jump magazine published in Japan. 
Why is this anime so famous:
The main reason was the epic manga, whose readers were waving along with the story and hacked the internet such that its popularity was known to the world in 2019 only getting so many hits and likes in the social media that ultimately the animation has to be too good.
 You won't be able to find the main character until the end.
First of all, it is a mixture of horror, shonen, drama, action and a lot more,with an amazing blend of all genres.
For those who are not used to big manga series, this anime is the one for you, having only  2 seasons being released, 12 episodes in each season. 
 Unlike other anime like Attack on Titian,  they don't let the viewers get bored by not telling the suspense part till the end but they revealed it in the 1st episode and then let the story continue. Strange but this is what happens in the story. 
So I would recommend you can go and watch this anime on Crunchyroll, Netflix, etc.
# 5 Re:Zero
This series is an anime adaptation of a light novel written by renowned writer Tappei Nagatsuki and illustration done by Shinichiro Otsuka. 
 The official sites have released only 2 seasons till now and currently ongoing.
The sales of this series have crossed more than 3 million.
The global fan base for this series is very high.
Why watch this anime?
Awesome animation.
Every character has a mystery and story behind themselves.
 Sync with the real world.
Deals with the political, social issues, etc.
The compacted storyline, full package of interesting things.
Connected to teenage life.
Life lessons.
The story goes around a normal young man named Natsuki Subaru, who is living his normal life in modern japan. One day , surprisingly, he is summoned to another world. Without any clue and knowledge about the other world , soon he meets a silver-haired-half-elf girl, emilla……
You can watch this anime on various platforms like Crunchyroll, Netflix, etc.
Hope you like the Top 5 list of 2021 anime do share your beautiful views below, we'll get in touch soon.