When it comes to gaming, Grand Theft Auto: Vice City will always be the first preference of GTA fans as it is a jaw-dropping game.
GTA: Vice City was a classic piece among all other GTA series. The hardcore GTA fandom can relate to the fact that GTA Vice City is any day better than GTA III or GTA 5. Vice City has all that GTA III lacks – great graphics, cars, helicopters, an imposing protagonist, chef mafia, Lance Vance dance, and the soundtracks. What else could someone ask from a game?
Though convincing arguments will always be there for any of them, Vice City had an identity of its own that made it earn the top gaming awards.
What makes the game best of the best?
Captivating Characters
Vice City is full of memorable characters that give it an upper edge in the gaming world. GTA always delivers the best narrative with the best cast. Vice City stands supreme with an incredible casting – the protagonist Tommy Vercetti, a wise gangster and a perfect replacement of the mute Claude from GTA III. He is a drug merchant with a captivating personality who wants to find and kill the assailants responsible for ambushing during his drug deal.
The main antagonist of the game is Sonny Forelli. Patriarch of the criminal Forelli family of Liberty City. It was him who sent Tommy Vercetti to Vice City to oversee the cocaine deals.
The cast of the game is efficient in their roles and does not ham up the scenery. Some of the major characters were Ken Rosenberg- a lawyer by profession who defends mafia associates in court and Lance Vance- who seems relaxed and down to earth but is an impulsive and emotionally insecure person.
The supporting characters like Juan Cortez, Ricardo Diaz, Kent Paul, Avery Carrington, Umberto Robina, Mercedes Cortez, and many more made the game connect more. You get it all in one shot- Vice City.
Intriguing Plot
Set up in Vice City, Florida, in 1986, a rip-roaring time to be alive, GTA: Vice City is a gangster story that makes it grab attention. It was moreover a narration of Scarface in game format. Scarface is one of the best movies of all time and the best source for a gangster storyline.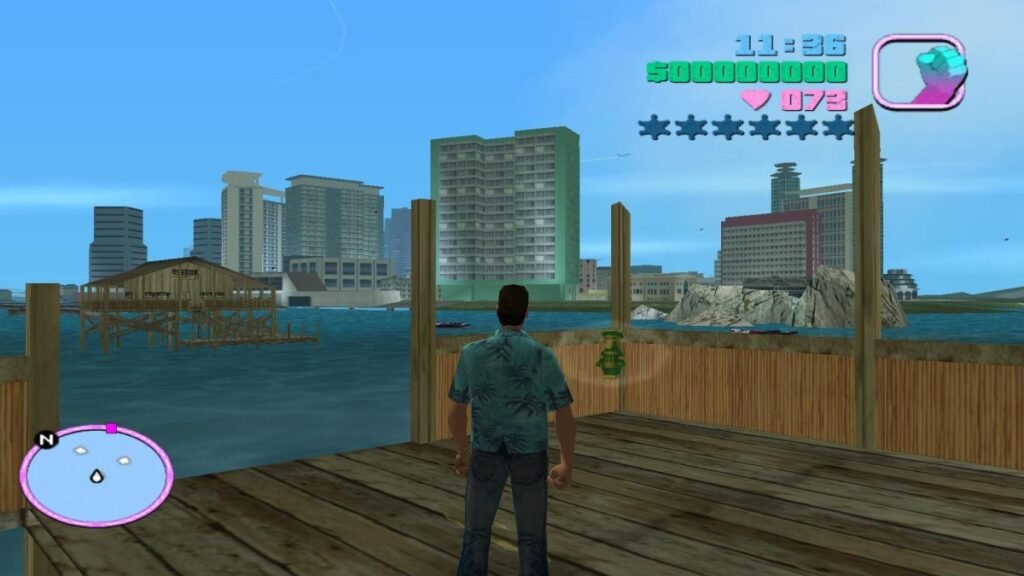 The story starts with Tommy Vercetti being a drug dealer. He wants to settle a drug deal to get some money. But unfortunately, after the ambush, both money and cocaine got stolen. It was a turning point in the game, as, after that, it became a revenge storyline. Tommy made an alliance and vow with Lance to get back the money and drugs.
Then Tommy starts to work with Cortez as his men were responsible for the carelessness. Then comes the third character Diaz whose men ambushed the drug deal between his gang and Cubans. Therefore, Tommy wants to win his trust before he kills him. Finally, Tommy and Lance kill Diaz, after which Tommy is allowed to have all control over the town. 
Tommy earns a lot after that and owns many businesses, but this causes a rift between Lance and him. Meanwhile, Sonny wants his money back and comes to Vice City. Tommy decides to give him fake money, but Lance betrays him, due to which Sonny and Lance get killed ultimately. In the end, Rosenberg becomes Tommy's, right-hand man.
The entire story keeps the suspense and thrill alive, reaching a massive audience.
Perfect Homage to the 80s
The 80s culture is well imputed in GTA: Vice City, and it was a perfect match to the GTA formula. Grand Theft Auto III came to PlayStation 2 in October 2001, a predecessor of GTA: Vice City that and then the following year saw San Andreas in 2004. Vice City stands between the GTA III and San Andreas when it comes to features and vehicles. However, the killer 80s soundtrack, a recreation of the iconic cars like Lamborghini Countach and Ferrari Testarossa, and lots of pastel colors were what made it the best GTA game ever released.
The killer soundtrack of GTA captures various music scenes of the 1980s. With hits like Video Killed The Radio Star, Call Me, and Two Tribes and iconic bands, Twisted Sister, Quiet Riot, Def Leppard, and Mötley Crüe. Rockstar Games used many hit movies and classic TV shows' music and setup in Vice City.
The 80s had compelling fashion, and Lance Vance would have never been the same without that bright white power suit. The popped pastel colors, Hawaiian shirts, and hairstyles from the 1980s made Ken Rosenberg, Kent Paul, and Lance Vance look on point.
The 1980s was a golden era for supercars. The posters of Ferraris and Lamborghinis were every next door. Countach and Testarossa were the iconic cars that made it to the game, letting the crazy fans sit inside and ride their favorites. 
Is Vice City still loved in 2021?
Vice City is undoubtedly the most exquisite creations of Rockstar Games so as so that it is still formidable in 2021. Games come and go, but some games never get outclassed. GTA: Vice City is one of them, as even after decades, it never fails to impress gamers.
Personal preferences are always there, but the majority of people in 2021 still fall for it. Everyone craves the game including the Millennials, Generation Z, and even Generation Alpha.
The game was so popular among people that fans consider it to be the best game to date. Initially, Vice City was a mission pack for GTA III, but the creators soon realized that a full-fledged sequel should be made and not just a DLC.
This classic title immerses you into the role of Tommy Vercetti so well that you sense it all, moving in the mansion, saving yourself, and killing your enemies. One can never be objective about Vice City because it is fun, memorable, and connects with you. That is the reason it won 13 renowned awards and got nominated several times. Vice City received titles for Best Story, Best Graphics, Best PlayStation 2 game, Best Soundtrack, Best Action/Adventure Game, and the Ultimate Game of The Year alone in 2003.
Personally, it was the game I played a lot during my childhood – someone who dislikes gaming. Ironic! But it's true. The game connected me so much to it that it got into my daily routine. No doubt that it transcends its predecessors. The game was believable, and the multiple missions of the game made it more excellent.
Though a gangster game, the overall message is a good one.
Work hard, set your goals, be smart about your choices and whom you surround yourself with, and be confident enough to stare down your biggest problems before taking them on directly.
So do you consider GTA: Vice City to be the best?