A stunning 1,098-carat diamond – considered to be the third largest diamond of its kind in the world – has been discovered in Botswana, Africa. Debswana – a diamond mining company – founded the diamond on June 1 in the Jwaneng mine in southern Botswana – considered as the world's most valuable mine. On Wednesday, the company's director, Lynette Armstrong, presented the stone to Botswana President, Mokgweetsi Masisi, reports The Guardian.
This 1,098-carat diamond is believed to be the third-largest diamond in the world after the 3,106-carat Cullinan stone recovered in South Africa in 1905 followed by the 1,109-carat Lesedi La Rona unveiled by Lucara Diamonds in Botswana in 2015. "This whopping gemstone is the largest diamond ever discovered in the company's five-decade history," said Debswana director Armstrong.
He added "We are yet to make a decision on whether to sell it through the De Beers channel or through the state-owned Okavango Diamond Company. This rare and extraordinary stone means so much in the context of diamonds and Botswana. It brings hope to the nation that is struggling."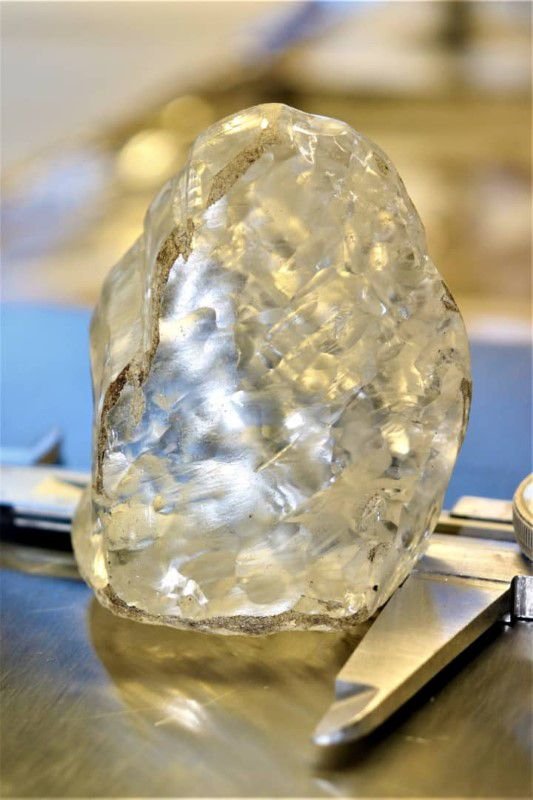 Minerals Minister, Lefoko Moagi said that this stone (world's third largest diamond) – which is yet not named – measures 73mm long, 52mm wide, and 27mm thick. It could not have come at a better time after the COVID-19 pandemic hit diamond sales in 2020. Debswana is a joint venture between Anglo American's De Beers and the Botswanan government, and hence the government receives 80% of the income from its sales through dividends, taxes, and royalties.
It's quite an achievement because Botswana's economy is mostly dependent on diamond mining. Let us know your opinion on the 'World's third largest diamond discovery' in the comment section and be sure to stay tuned for further updates.