This year in January, Whatsapp has released a new Privacy Policy for their customers. Due to this new policy, there is controversy around the world. Now, WhatsApp has told that on 15th May, which is the deadline to accept the new privacy policy, they will not discontinue the account if the user does not have accepted the policy. Here's what the updated FAQ reads, "No one will have their accounts deleted or lose functionality of WhatsApp on May 15th because of this update."
What is the new privacy policy of WhatsApp?
Most users think their content of chats is not encrypted. Whatsapp company has access to its chat content and shares it with its parent company Facebook. But actually, the contents you share with businesses accounts are accessible to their company and they can share it with third-party companies that work with them.
What about its new deadline?
Elon Musk has a kind of hobby to get involved in everything nowadays, and you won't be surprised that he tweeted to his millions of followers to use "Signal" for messaging when WhatsApp released a new privacy policy. Even some reports suggested that Mark Zuckerberg himself uses Signal for messaging.
So, then WhatsApp announced in February that the extension to accept the privacy policy to 15 May. And today, they also ensured that they will not terminate the accounts after 15th May if users do not accept the policy until then they will continue to operate with limited functionality.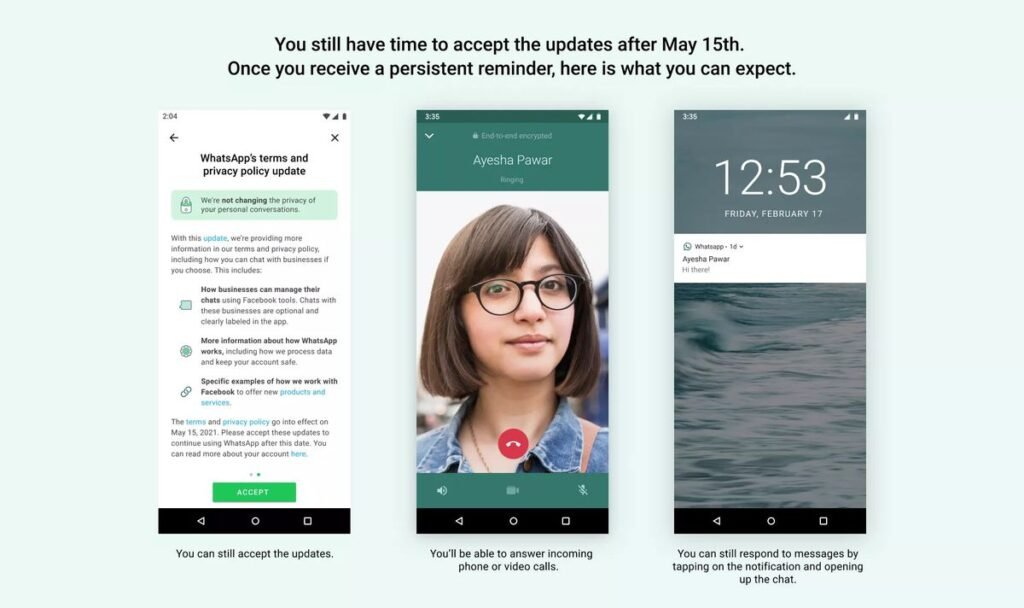 What is its limited functionality?
The users can receive notifications and calls.
You can able to reply messages through only notifications.
They cannot open an app to read and send messages.
They can also update the app.
Additionally, users will be receiving reminders to accept the policy. And at some point in time, they will receive the reminder which cannot be ignored then that means further you cannot able use WhatsApp with its limited functionality. Approximately, they will be going to give reminders for 120 days. After that WhatsApp will be of no use.
What content do they access?
They are already accessing and sharing information like phone numbers. Now they will store messages sent to businesses on Facebook servers and they can use it for advertisement purposes.
Through this policy, other messaging apps (like Telegram and Signal) have to gain more users. This privacy policy is only concerned with business content accounts so normal users do not worry about it. If you want to continue using your WhatsApp services then go and accept the policy. But we don't know that this policy is implemented only in India as European countries have compliance with GDPR. So, they have protection against the worst cases of the privacy policy.