AirPods Max Teardown
The attempt of the AirPods Max teardown by iFixit is finally complete which provides insights about the internals of Apple's debut headphones and how naive is it to repair them. Along with these, they also did the teardown of Bose's NC 700 headphones and Sony's WH-1000XM4 for comparison. To this date, Apple was not given a single repairability point by iFixit for any of its AirPods. This comes with a complete overturn as the AirPods Max has been provided six out of ten scores.
So what is the secret?
Firstly, it makes use of ear cushions which are placed together with the help of a magnet making them easily swappable after their aging. Secondly, it makes use of screws rather than messy glue to hold together plenty of internal components. This makes it easily repairable in any case of breakdown.
The headband hinge mechanism found between the band and the ear cups made iFixit its fan which can be removed with the help of a Sim ejector tool or a paperclip without the need of removing the ear cup. iFixit believes that this feature makes it easy to understand the high price and justifies the fact of intricate detailing being done on it.
The design of the AirPods Max is pretty clean:
Some Pullbacks
However the score of 6 out of 10 is self-explanatory that they aren't perfectly repairable in any way as when we open the AirPods Max, we need to deal with the messy adhesive. The screw part is involved in internal components holding together but you will need a screwdriver if you sit down to repair it.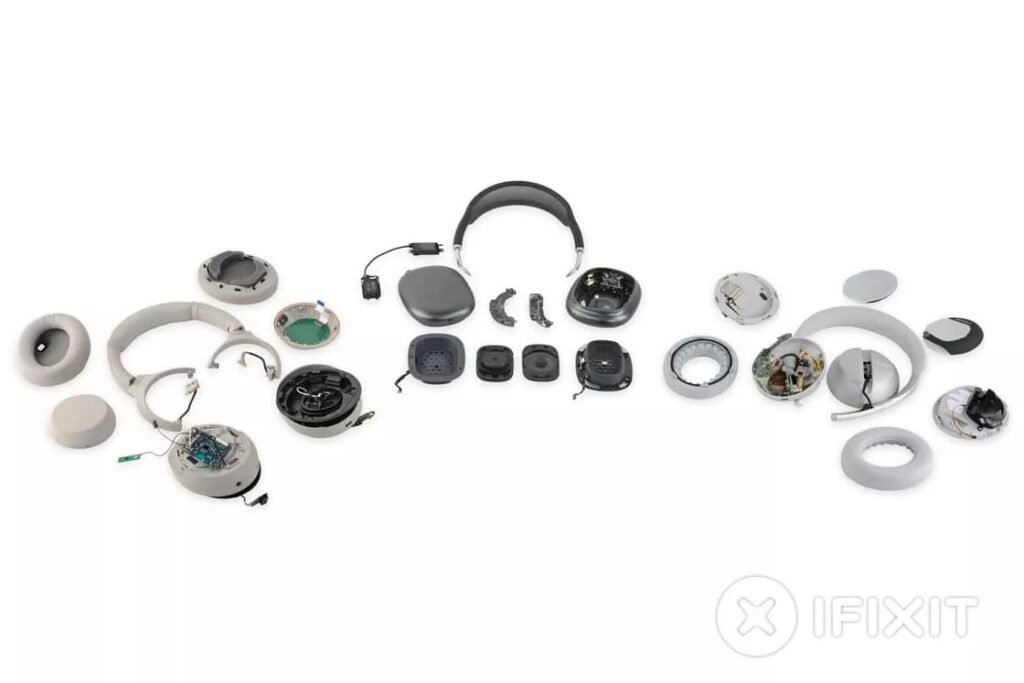 Sony and Bose- Babies in Front of Apple
iFixit compared AirPods Max with the teardown of the cheaper Bose NC 700 and Sony WH-1000XM4, the noise-canceling headphones. But looking at the build of these headphones, they are like toys in comparison to AirPods Max.
So one doesn't need to worry after paying a massive $550 for the headphones because AirPods Max won't be a nightmare to repair if batteries or other components start to malfunction in the future. But Apple should try harder to bring this repairability to the truly wireless AirPods.