Apple has released the latest in its line of popular smartwatches, the Apple Watch Series 6. The Series 6 model retains the same overall design introduced with the Apple Watch Series 4 and continued with Series 5, but it introduces a range of new sensors to allow things like measuring blood oxygen and better tracking of sleep.
Apple watch series 6 a full overview
Apple says Series 6 will measure blood oxygen levels with red and infrared light in around 15 seconds. The company says it's partnering with health networks to start large-scale studies using the new blood oxygen measurement feature, including testing to see if it can detect if a person is infected with COVID-19.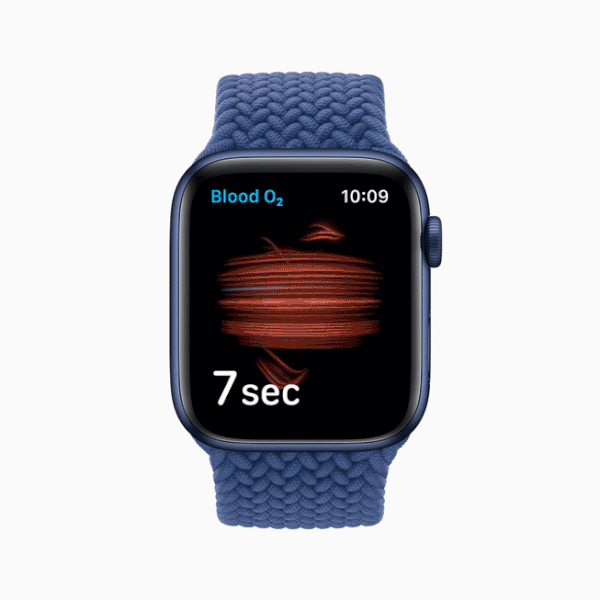 The Series 6 also contains the latest S6 processor, which promises better output up to 20%. It is based on the in-house A13 chip from Apple and brings the first significant upgrade to the performance of the Apple Watch since the Series 4, given that last year's Series 5 model used the same S4 Processor (rebranded as the S5 with other improvements such as a compass and a new display controller). Apple claims it achieves this enhanced efficiency while retaining the previous model's 18-hour battery life. However, the Series 6 will recharge more easily, going from zero to complete full in about 1.5 hours.
Another new sensor is the ever-on altimeter which provides information about the elevation in real-time. Apple claims the calculation is accurate down to a foot.
You can get Series 6 finish in grey, silver, gold, or blue aluminium, or a new product (RED) edition with a stunning red finish. The stainless steel model is available in either graphite or yellow gold, but the silver chrome model seems to be no longer available. The top-end edition model is available in black or natural titanium but this year there are no ceramic options.
The Series 6 will run watchOS 7, which Apple announced earlier this year at WWDC. The software update — available for all models dating back to the Series 3 — adds support for native sleep monitoring, but with dedicated sensors, the Series 6 will take that feature even further. Other big improvements that will arrive in watchOS 7 include a rebranded Fitness app with new workouts, a hand-washing feature tailored to the ongoing COVID-19 pandemic, richer complexities, and the ability to swap watch faces.
Apple debuted with 2 new features Family Setup and Fitness Plus
Apple is also debuting a new feature called Family Setup which allows parents to set up controlled Apple Watches for their children who don't have their own iPhones. Parents will be able to control who the child will message or call from the watch, set up location notifications, add do not disturb school time modes and a new watch face can inform teachers that the watch is in DND mode from a glance. Family Setup includes an Apple Watch cellular model, which will be available at launch via a handful of carriers.
Apple is also debuting a new Apple Watch service, called Fitness Plus, a virtual workout subscription scheme for virtual workouts and enhanced fitness tracking features. It costs $9.99 per month or $79.99 per year. You can also buy Fitness Plus in a package with other Apple subscription services, such as Apple Music, News Plus and TV Plus.
The Apple Watch Series 6 is to be available starting at $399 for a 40mm model, the same price as the outgoing Series 5. Cellular versions start at $499. The Series 6 will be available for order starting today, 15 September, and will start shipping on Friday, 18 September. As part of its waste reduction efforts, Apple says that it won't provide a USB power adapter in the box with the Series 6 watch, only the charging cable.