With crypto mania happening all around the world, and people still bullish on bitcoin. There's an ultra-rare metal that has rallied even more than Bitcoin this year, leaving the most famous and beloved cryptocurrency in the dust.
The ultra-rare metal doing even better than bitcoin this year is Iridium (mined as a by-product of platinum and palladium extraction), which has surged a whopping 131% since the start of January this year, according to Bloomberg. A surge which is far more than that of Bitcoin's 85% and any other commodities on earth.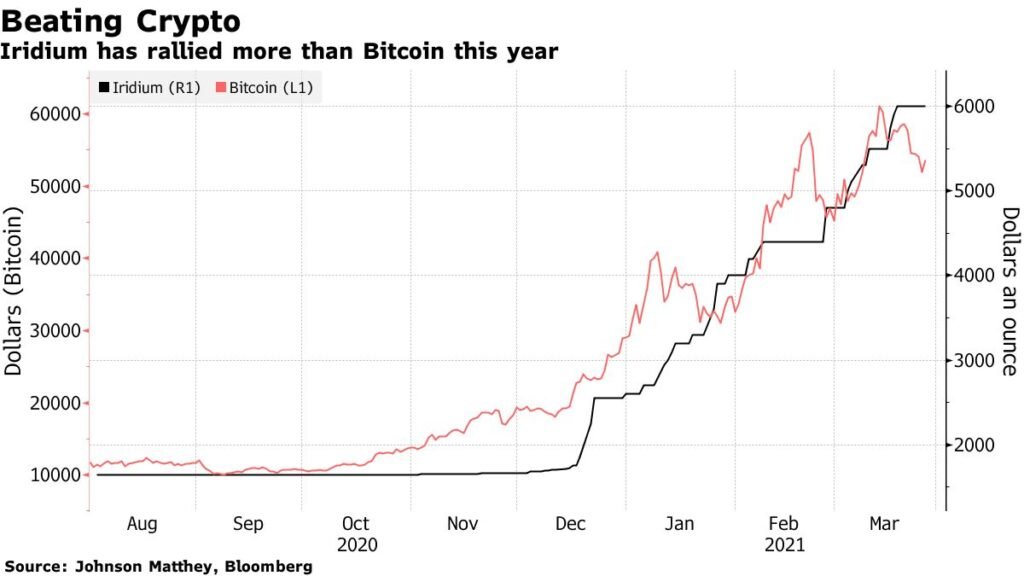 This year we have seen many weird things and a continuous hike in the price of Bitcoin is one of them. Currently, an all-time high price of Bitcoin (BTC) is $61,556, and one of the main reasons behind that is Tesla's $1.5 billion investment in Bitcoin and also Elon Musk's tweet in favour of cryptocurrency. As for Iridium, the reason behind its surge is its rising demand for use in several industries, especially in the electronics and chemical industries.
According to an analyst John Plassard, this ultra-rare metal has "a high melting point and hardly corrodes. Which makes it particularly significant for mobile phones. hydrogen fuel cells and is a key element in the transition from fuel to electric vehicles."
It also has a much smaller market than other metals, so production issues can have a big impact on its prices. As is demand is dominated by industrial users, betting on it is also difficult. Iridium isn't traded on a bourse or through exchange-traded funds, so its price can shoot up if there are no sellers.
Iridium currently costs up to $6000 per ounce, which is even more than three times the price of gold. And as it mined with platinum and palladium, less demand for platinum and palladium, after an increase in a shift to electric vehicles, can also impact the price of the Iridium in near future.