Savage Yakuza, Tatsu who has legions of gangsters and gangs owing to him. They called him "The Immortal Dragon". A sheer amount of cozy comedy is bound to be introduced when this guy would trade his badass business to become a full-time house-husband. This 'He' is Tatsu. He calls himself 'Immortal Tatsu'. He is head over heels with his wife, Miku. They were old friends who met for the first time after he had just finished a bloody fight. This lady is on another level having such a yakuza-esque husband.
His normal wear is a set of all black suit topped with an apron. His shades are his constant companion, even to the gym. The long running scare on his face gives him a thug identity.
His daily life, doing chores in his yakuza-esque way is the root of the comedy in this story. Whatever this serious fella does, he is bound to make the audience laugh. Even though he works in a yakuza-esque way, he chooses to make his chores look cute somehow (the apron for the matter). Of all his skills, his cooking is great and he is always trying to learn various cuisines.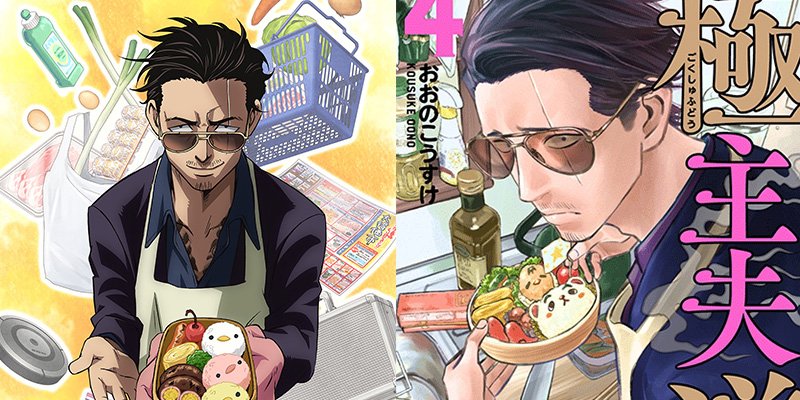 It is funny to watch when he tries to act like a normal citizen but the long scare and his thug face won't let him do that and people confuse him as a gangster. Instead of his every possible try to avoid conflicts he is bound to get some. But he catches his opponents so off-guard that they can barely touch him.
The recipe for becoming a fantastic househusband, just like Tatsu, includes following steps: Starting the day with cleaning the house, cooking and taking care of all homely responsibilities, running into yakuza and provide a laugh track in form of some damn funny face reactions.
Yoga instructor: What does this pose remind you of?
Tatsu: It's the "after the boss smacks you around with the flat edge of the blade to teach you some manner" pose.
Tatsu keeps bragging about his yakuza- esque past. He never off guards his yakuza mannerism. He still got the grace of a yakuza and a body full of tattoos which he definitely tries to hide in every possible way. He likes housekeeping but got his own way to do the chores. Take one example, his approach to clean the house is more like cleaning a crime scene or completing some damn mission. Tatsu runs a screen test for the newly bought Roomba like they do while recruiting a new gang member.
Sit tight to meet this character straight from the manga itself by Kousuke Oono, when it launches on Netflix worldwide this very year.