So readers, in the previous post we told you about Pokimane going to stream on her birthday. So here's a quick glance at how it went. Pokimane, a Moroccan-Canadian YouTuber and Twitch streamer celebrated her 25th birthday in a Jacuzzi streaming with the other members of OFFLINE TV like Disguised Toast. Pokimane's outfit for the day was a shirt with a bikini print on the back and front.
Was Pokimane's Hot Tub Stream a Success?
Talking about whether the hot tub stream really succeeded in breaking the records then we must tell you that the stream did not hit any viewership records as per the expectations. But according to OFFLINETV and Pokimane, they crossed 100,000 viewers during the stream, which really was a success for a hot tub stream as till now, no one has gained this much views for any hot tub stream. This is also true that this 'hot tub meta' has just stirred up things in the Twitch community with a variety of reactions. Someone calling it trash while the others coming up to defend.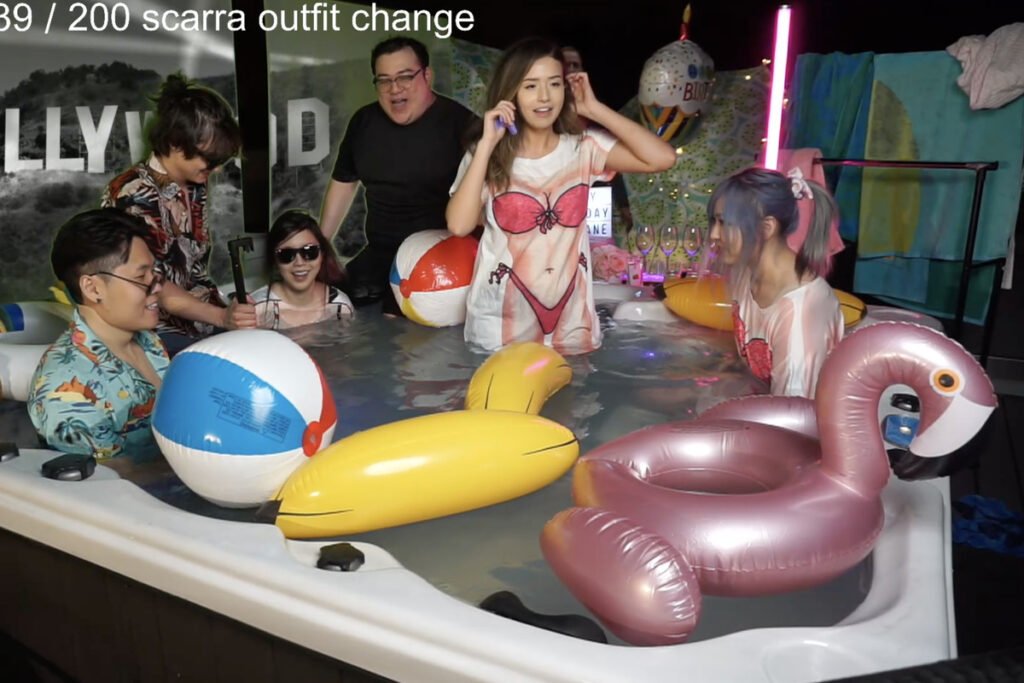 What's the Fascinating Highlight in Pokimane's hot tub stream?
During the stream, a lot of things happened that the audience has really enjoyed. It was so amazing to see Dababy showing his chat and wishing her a happy birthday. Disguised Toast when faking an arm tattoo. While later revealed that his skin was not real but fake. Although before the stream he showed off his plastic suit telling everyone about the secret of his muscular abs!!
Also, the interesting part to watch was when they wrote names of their fans on their bodies. The laughing moment was when the group brought the cake into the water. In this stream, even Scarra was present who later tweeted that this was his last hot tub stream. This was really shocking!!
What About the Bottled Water?
Recently an incident happened when the "gamer girl" infamously sold her bath water for the sake of money (via Dexerto). So in order to pay tribute to her, the water from the Pokimane tub was also bottled. During the stream, Scarra handed over a mason jar to Pokimane saying that 'Oh look at that. It's some quality OTV hot tub water' to which she replied saying that 'Thank you Scott for your own bathwater or hot tub water.'
Although the water was just bottled and will not be sold. For now, OFFLINE TV has really set high standards and it will be really fun to see how the other streamers will cross that milestone.
So readers, did you watch POKIMANE'S hot tub stream, and do you liked it …..do tell us in the comment section below.