Eikichi Onizuka is a homeroom teacher at Holy Forest Academy. He is 22 years old, a pervert, a chain-smoker, has ear piercing, loves to wear not so casual clothes, is a black belt, has abnormal strength, rides a Kawasaki Z1, is a gangster turned teacher, has a great passion for teaching and never forgets to teach his all messed up students some values. These things make him the greatest teacher Japan has ever had. Trust me! GTO (Not Pontiac but Great Teacher Onizuka anime) actually deals with this badass guy, Onizuka, who wants to become a real teacher. GTO is based on the same name manga by Tooru Fujisawa.
Among the countless animes you have ever seen or are going to see, this anime and this character Onizuka will definitely be engraved on your heart because it gives you some pretty good life lessons with some pretty badass examples.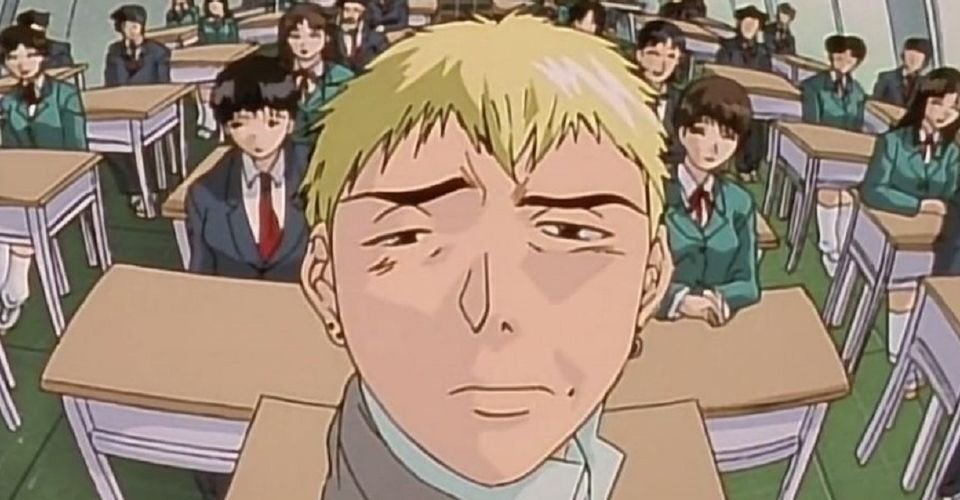 Onizuka is more than a little radical personality, he is witty and rebellious. If he wasn't a pervert, which actually led him to become a teacher, he would appear as an android teacher from the future. His substantial characteristic is his commitment toward his students. He is a real man, who is unstoppable when it comes to teach his students some good lessons in a peculiar fashion. He is not afraid of any mistakes and doesn't care about apologies. He has a great sense of justice, just try to pick on his students!!
The anime is funny, got some good car chase sequences, great fight sequences, and loads of touching moments. It comes in that category which must not be missed. If you are a fan of late 90's anime there are a ton of video game and anime references in the whole course of anime. The opening animation is really something to behold. It is even suggested checking it out if just for the opening. The anime clocks it in mere 43 episodes as the manga contains massive material however it was able to plot some great characters and story.
The students are all messed up, they do everything in their power to humiliate him, but he slowly makes friends with them. With the last episode, you will figure out how he earned the trust and respect of his students through his long hill struggle and become the greatest teacher Japan has ever seen.