Apex Legends' has been a massive success for the EA and Respawn Entertainment. And with its increasing popularity, the battle royale already has as many as 100 million players, some fans are really eager to see the world expand beyond the games. As in a Reddit AMA, someone asked about the possibility of an Apex Legends "Nextflix/Amazon Prime TV series," on which Respawn director of community and communications Ryan K. Rigney replied with a cryptic message hinting that something interesting is cooking behind the doors.
Normally, Respawn and EA is thinking about additional undertakings to ensure Apex Legends' longevity. We have along these lines seen Apex dispatch on the Nintendo Switch, just as the mobile version not far off.
One possible road for Apex Legends to investigate is TV or film, as we have seen movie and TV adaptations of video games are becoming a bit of a renaissance, at the moment. For example, The Witcher on Netflix, Pedro Pascal's The Last Of Us TV show which is coming to HBO soon, and newly released Mortal Kombat.
Well, for now, very little has been said about a TV adaptation of Apex Legends, yet Ryan Rigney, Respawn's Director of Communications, gave a cryptic clue during an AMA on Reddit, leaving fans curious to think about it.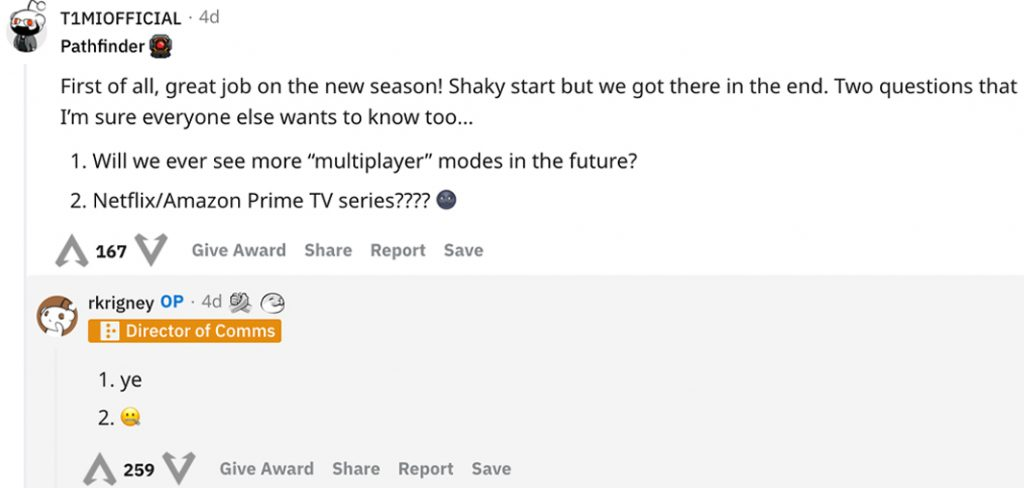 As first spotted by Dexerto, when a Redditor asked about a "Netflix/Amazon Prime TV show", Ryan Rigney just reacted with the zipped mouth emoji, which many interpreted as meaning something is conceivably in progress, yet there's no further info about this, but a TV series based on Apex Legends seems like a great idea.
Respawn has, previously, expressed that they'd love to make an animated series about Apex Legends. And as many animated shows are coming to Netflix which are based on games, including League of Legends, Dota2, and Resident Evil, we can expect Respawn to do the same in near future.