Apple has finally revealed its premium flagship iPhones for 2020: the $999 iPhone 12 Pro and $1,099 12 Pro Max, with 5G connectivity and a new squared-off design that's reminiscent of the iPhone 4 and the OG iOS community is feeling that nostalgia. This is also the first major redesign for Apple's full-screen iPhones since the bezel-less layout was unveiled in 2017 with the iPhone X.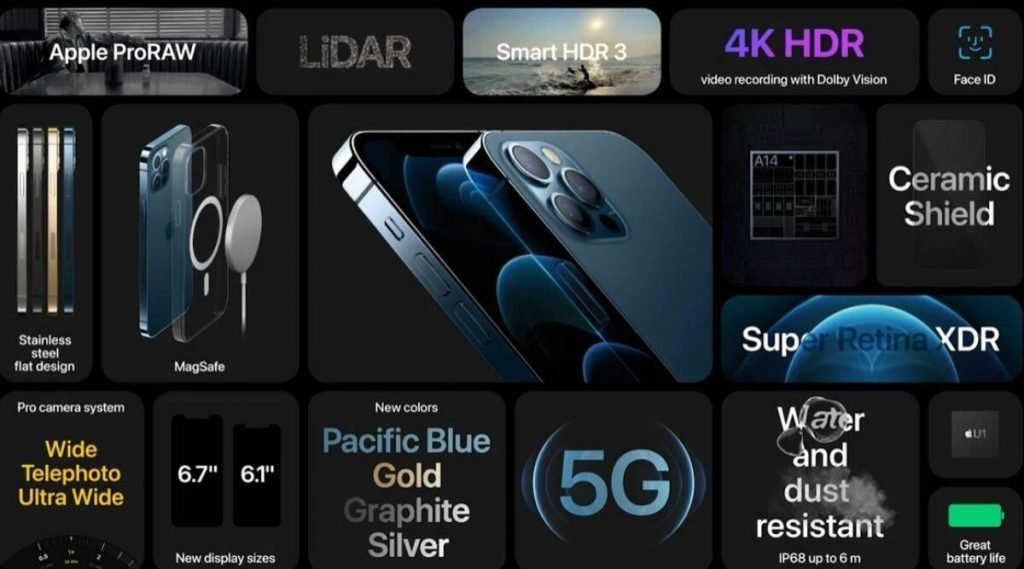 Colour, Design and Specs
The 6.1 inch iPhone 12 Pro and 6.7 inches iPhone 12 Pro Max are both bigger than the 5.8 inches iPhone 11 Pro and 6.5 inches iPhone 11 Pro Max of the previous year. In general, the 6.7-inch iPhone 12 Pro Max is noteworthy for taking the throne as Apple's largest iPhone to date. The Pro models sport a stainless steel build (rather than the aluminium on the iPhone 12) in four colours: graphite, silver, gold, and a new pacific blue.
The latest iPhone 12 Pro models will include Apple's A14 Bionic chip, first unveiled last month on the revised iPad Air, which VP Greg Joswiak previously stated A14 chip to be Apple's "most powerful chip ever made." The new chip is the company's first to use a 5 nm design (instead of the processor used on the A13 Bionic last year). Apple states that both the latest 6-core CPU and the four-core GPU are the fastest ever, with speed up to 50 per cent higher than any other handset, the company reports.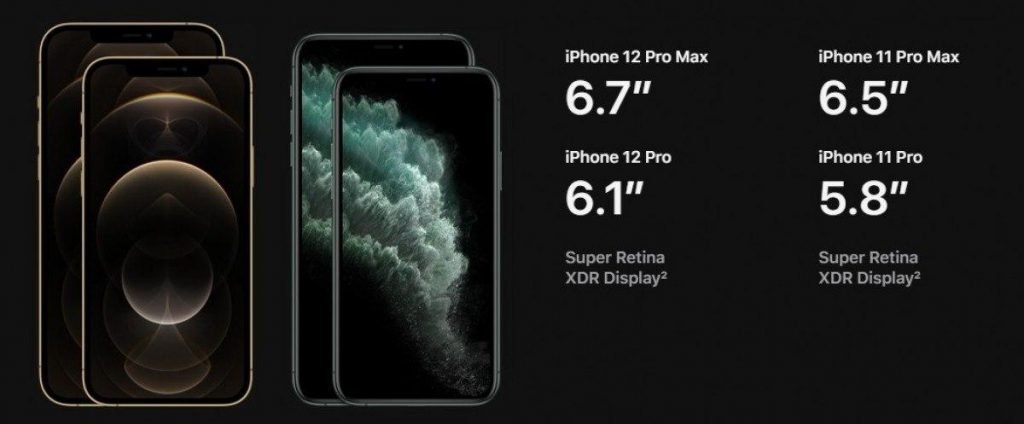 5G is one of the major new additions to this year's models. Both sub-6GHz and mmWave 5G will be enabled by the iPhone 12 Pro, ensuring both devices can operate with all the different forms of 5G networks from all three main US carriers. Apple says it has "the most 5G bands of any phone," ensuring that a wide variety of cellular networks around the world and their diverse 5G requirements can be enabled.
"Ceramic Shield" technology, which Apple says, is tougher than any other smartphone screen, is also present in the latest iPhone 12 Pro models with four times better "drop performance" when it comes to stopping your device from cracking when slipped from your hand and dropped.
iPhone 12 Pro Camera Features
Apple is again delivering a triple-camera setup on both the iPhone 12 Pro and max like it was in the previous year's pro lineup, with 12-megapixel-wide, telephoto, and ultra-wide camera sensors. The wide camera now provides a faster / 1.6 aperture, which Apple states that it offers a 27 per cent enhanced low-light performance, while 4x optical zoom is now available for the 52 mm focal telephoto sensor.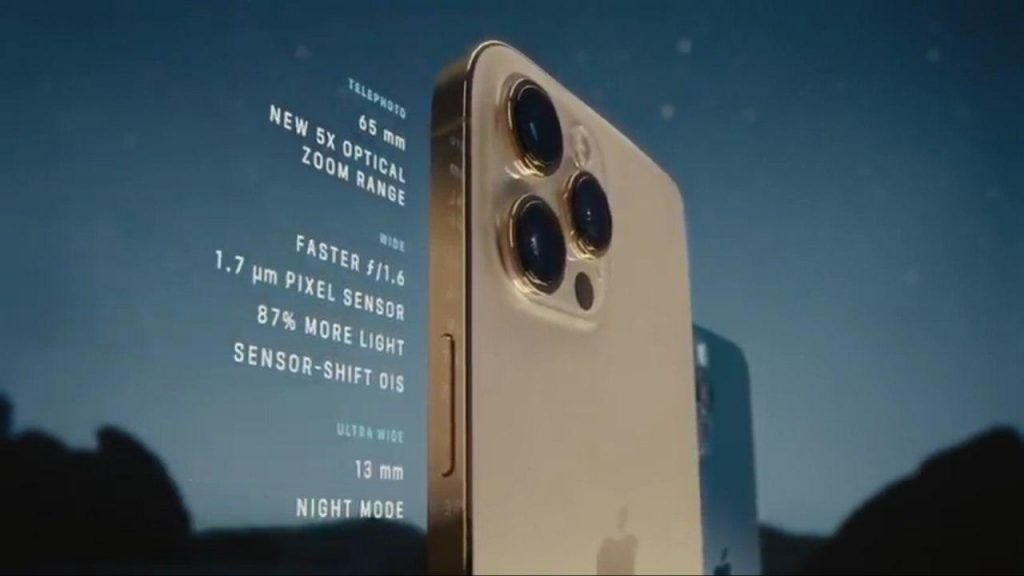 A LIDAR sensor, which, like the iPad Pro, can be used for enhanced AR results are also new and unique to the iPhone 12 Pro models. Apple also states that in low-light conditions, the LIDAR scanner can be used to improve focus, allowing autofocus for low-light photography up to six times quicker. It also enables a real good Night Mode portrait photography.
The iPhone 12 Pro Max further extends the limits of its camera system. With a 65 mm focal length, there's a new 12MP telephoto which can zoom in up to 2.5 times optically. With f/1.6 aperture and a new OIS module, there's a new wide camera. The wide sensor is also 47 per cent bigger, combining for 87 per cent improved low-light quality with the lower aperture.
Apple also mentioned a new feature named "Apple ProRAW" that will be available later this year on the iPhone 12 Pro and 12 Pro Max. The company promises that, along with the versatility of RAW photos, it would give new computational photography advantages such as its Deep Fusion and Smart HDR. The format will be accessible across all four cameras and will allow users to change stuff such as sharpening, colour highlights, and more while also taking advantage of recent photography advancements from Apple.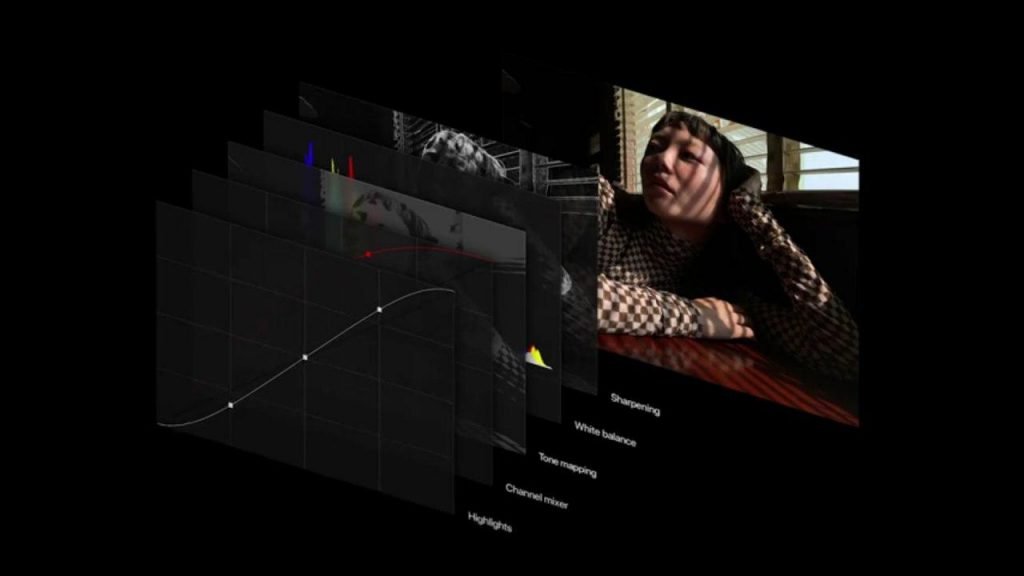 The latest iPhone 12 Pro devices will now be able to capture HDR video, a first for the segment, with direct Dolby Vision HDR shooting support. Dolby Vision HDR video can also be edited directly from the Photos app on the iPhone 12.
The two iPhone 12 Pro models, along with the iPhone 12 and 12 mini, will be compatible with the newly announced MagSafe wireless chargers and accessories from Apple that offer magnetically mounted cases, charging pads, and even wallet attachments.
No Charge Brick and Earpods 🙁
As part of the company's continuing sustainability priorities, Apple will also withdraw its bundled USB wall bricks and wired EarPod headphones from the packaging on the new iPhones. A transition that parallels the company's decision to remove wall bricks from its Apple Watch smartwatches earlier this year. However, Apple will still include a USB-C to Lightning cable in the box. (Honestly, there are other reasons in this case too.)
Price and Availability of iPhone 12 Pro
The iPhone 12 Pro will begin at $999, and with 128 GB, 256 GB, and 512 GB storage options, the iPhone 12 Pro Max will arrive at $1,099. Preorders for iPhone 12 Pro will begin on Friday, October 16, and will ship on October 23, a week later, while on November 6, iPhone 12 Pro Max will expect preorders and will ship on November 13.
There are also two other new iPhones besides the two flagships. The iPhone 12 and the iPhone 12 mini are set to replace the iPhone 11 model of the previous year.