Well, Everyone has seen many K Pop songs, K Drama but very few of us knew about South Korean movies before this Masterpiece arrived. Today I am going to talk about the First South Korean Film ever that made history by winning four awards at the 92nd Academy Awards for Best Picture, Best Director, Best Original Screenplay, Best International Feature Film. It is the first non-English language film ever to win Best Picture.
"Parasite" is a South Korean black comedy thriller film directed by Bong Joon-ho, Who has co-written the screenplay with Han Jin-won.
The Star Cast of Parasite includes:
Song Kang-ho as Kim Ki-taek who played the Father of the Kim family.
Jang Hye-jin as Chung-sook who played the Mother of the Kim family.
Park So-dam as Kim Ki-Jung who played the Daughter of the Kim family.
Choi Woo-Shik as Kim Ki-woo who played the Son of the Kim family.
Lee Sun-Kyun as Park Dong-ik who played the Father of the Park family.
Cho Yeo-Jeong as Choi Yeon-gyo who played the Mother of the Park family.
Jung Ji-so as Park Da-hye egho played the Daughter of the Park family.
Jung Hyeon-jun as Park Da-song who played the Son of the Park family.
Lee Jung-eun as Gook Moon-gwang who played the Park family's housekeeper and got replaced by Chung-sook.
Park Myung-hoon as Oh Geun-sae who played Moon-gwang's Husband.
Park Seo-joon as Min-hyuk who played Kim Ki-woo's friend. Min-hyuk referred ki-woo as an English tutor to the Park family.
This film is about two families, one is the Kim family and another one is the Park family. Kim's family lives on the edge of poverty. They fold pizza boxes for delivery companies to make some money and steals wi-fi from a nearby coffee shop. Their life changes when Kim Ki-woo's friend refers him as an English tutor to the Park family and somehow, all of them find a way to work within the same house. Then their lives change.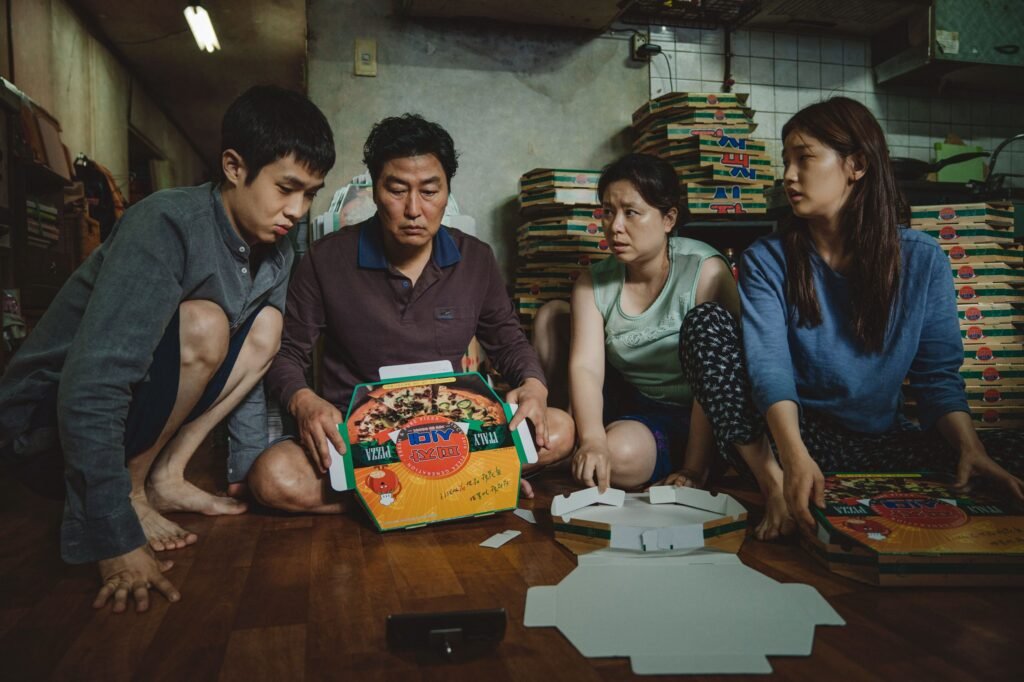 This film has many twists and turns that make it more suspenseful. This film reflects human nature so well. Also, the class struggles between the rich and the poor people of the society that happens in most of the Asian countries. We are also human after all and nobody deserves to be neglected.
Why Parasite is a Masterpiece?
Parasite is also my favorite film. I do think that this film has an exceptionally fine story that touches a wide range of people, brilliant acting, and top cinematography. Cinematography Breakdown will analyze the visuals of Parasite through three concepts: framing, perspective, layers.
If we see the film's first shot, this boy seems very hopeful and is willing to achieve something great in life. But if we see the last shot of the film, he doesn't seem happy and not hopeful at all, looks like he is in a very dark phase. This is a brilliant work of cinematography done in the film to show the situation of this helpless boy. That makes Parasite truly a Masterpiece.
Who is the real parasite?
There can be mixed opinions on this question but according to my viewpoint, the Kim family was the real Parasite. They lost their daughter. They were not able to uplift their social status in society. They remained happy for only some time. In the end, their father was also not with them and financially they were weak.
In the end, when the son was writing the letter to the father that he will buy that house very soon and become rich. But the son also knew that it would be difficult for him to become rich and buy that house. It seems like he was just satisfying himself by making such fantasies.
This film always shows that how society has always done bad with good people. Jessica (Kim Ki-Jung), who was the only one that made a new job in the household without replacing someone. The rest of her family replaced someone else.
Assessment from this Film
The real fight in our society is not between rich and poor. In fact, it is between poor and poorer, between have not or have nothing, between the broke and the broken.
If you love Parasite then there are some Bong Joon-ho movies that you can binge-watch like: Memories of Murder, Mother, and Snowpiercer.
I hope you enjoyed reading this article and let me know whom do you think is the Real Parasite in the comment section.