After more than two years of waiting, the much-awaited and most mind-boggling Marvel series – Loki is finally streaming on Disney Plus right now. And with its first episode – debuted on Disney Plus on June 7, 2021 – every Marvel is now eagerly waiting for the next episodes to see Loki aka "God of Mischief" in action. Now while talking about its first episode, it was full of comedic and dramatic scenes as well as some scenes where we saw Marvel's take on one of the FBI's "greatest unsolved mystery" to date – The story of mysterious 'air pirate' D.B. Cooper – which left many Marvel fans scratching their heads.
And that's why we have come with this article, answering your all questions related to mysterious D.B. Cooper and how Marvel ends up adding it to the Loki series. We're going to talk about Loki Episode 1 in little detail so spoiler alert for those who haven't seen it yet.
Loki Episode 1: D.B. Cooper Flashback Scene
Loki episode 1 has given the MCU a brand new path with branched timelines as well as where Infinity Stones no longer matter and are used as paperweights. This episode was all about Loki and how his decision affected his future. The episode starts from where we last saw Loki i.e. from the time heist of Avengers: Endgame. After that Loki was arrested by TVA (Time Variance Authority) for messing up with the "sacred timeline", which further ends up in Owen Wilson's Mobius M. Mobius taking Loki to his office to ask some questions and showing him a bit of a "greatest hits" of his life, particularly escapes.
At one point in this vision quest, Mobius stopped at one of his favorite moments in Loki's life and that's the moment where the D.B. Cooper reference comes in the role. As seen in some of the show's trailer, Mobius plays a flashback scene on the TVA's projector screen, where we see Tom Hiddleston playing the extraordinary true case of D.B. Cooper as Loki 'God of Mischief' who gives the flight attendant a note and says "Miss, you'd better look at that note. I have a bomb." Then it cuts to a scene where we see Loki jumping out of the plane and being sucked up by the Bifrost – back to Asgard.
On which Wilson's character Mobius says, "You Were D.B. Cooper!" and Loki responds that, "I was young and I lost a bet to Thor." Finally "solving" a 50-year-old true-crime mystery, and declaring Tom Hiddleston's God Of Mischief to be the true identity of mysterious D.B. Cooper. (It's been Loki all along!)
The scene can be seen just before the ending of the video below:
After this scene many people were left scratching their heads about who was D.B. Cooper, what is the true tale of his legendary heist and how do we get a glimpse of him in the Loki series? Well, don't worry we have got you covered.
Who is/was D.B. Cooper?
D.B. Cooper is/was a real-life plane hijacker and is considered to be the most vicious and dark criminal in American history. You would be shocked to hear that he is/was the only person ever in America who not only hijacked a commercial plane but jumped from it with parachutes and a heavy amount of $200,000 and was never get caught. In fact after the jump, neither he was seen alive nor dead.
This man kept America's FBI confused for the next 45 yrs and even today he is still a mystery. Even today no one knows who was that mastermind vicious hijacker.
Why is D.B. Cooper so famous even today?
Mysterious D.B. Cooper is the only person ever in American history who was successful in hijacking a plane without being caught. That's why this incident is believed to be among those cases whose mystery remains unsolved even today.
Surprisingly, despite being a thief D.B. Cooper is remembered as a great personality who was not caught and even his identity was also not revealed ever which makes him extremely popular. Although he was a thief, a criminal but for some people he was a mastermind and an intelligent personality. He was called the James Bond of the criminal world. His crime is considered to be a perfect crime to date.
Readers, could you just believe despite being a thief he was given so much importance. Even he was mentioned in a lot of books, films and many documentaries were also filmed on him.
The Story of the 'Hijacker D.B. Cooper'
Back on 24 November 1971, at the Portland International Airport, a middle-aged man arrives with a black suitcase in his hand, and books a ticket on the counter for the Seattle 305 paying $20. Almost dressed like a typical businessman, mentions his name as Dan Cooper in the booking process.
Cooper sits in the flight and calls for a flight attendant. He then gives a note to Florence, a flight attendant which says "I have a bomb and I want you to talk to me about that." A hustle-bustle is created among the crew and Cooper opens his briefcase showing the bomb. He hijacks the plane and demands $200,000, 4 parachutes, and a fuel truck to refuel the plane ready upon landing.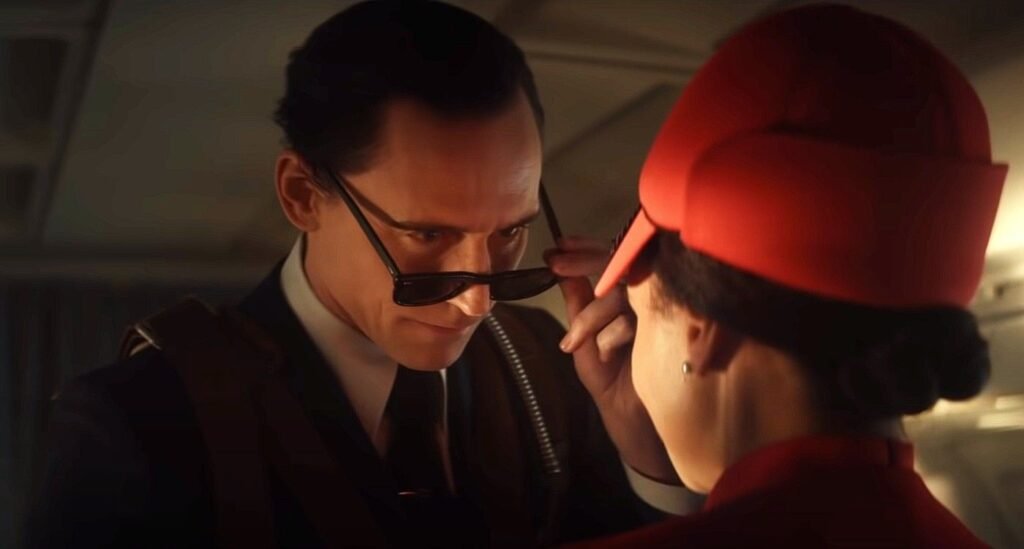 After that, the FBI gets involved in it, and to save passengers life they agree to his demands. Where on one side the crew is tense and doing everything to meet his demands, on the other hand, Cooper the hijacker sits calmly smoking' and having his drinks as if nothing has happened.
As the plane reaches the airport, Cooper is given an amount in a bag and 4 parachutes and now it was the time for him to escape. He instructed the pilot to open the fly at a height of 10000 ft. with a speed of 200 miles/hr and open the landing gear. Finally, he jumped off the plane with the money and was never seen after.
Till today, no clues are there about him being dead or alive. Only the FBI got some bundles of money covered under sand on an island years after that were of the same marked serial number which was given to Cooper. Just by this clue, it is assumed that he must have died while he jumped off and the bag opened up and the money got scattered.
How 'D.B. Cooper' became part of Loki?
This weird and mysterious D.B. Cooper flashback scene wasn't actually the part of the initial pitch for the series, nor was it something that was suggested by Marvel. It all comes from Loki series' head writer Michael Waldron, who said to Decider that:
"That was me writing the pilot, or writing the first episode, having fun with Mobius showing Loki the scenes from his life. People, I think when they heard about this show, they always thought, 'Okay, it's Loki traveling through time influencing historical events. So we're gonna see Loki riding with Paul Revere and doing the most basic, PBS sort of stuff.'
"And I got excited about, what is the deep cut, really fun stuff that we can imagine [for Loki]? And I just love D.B. Cooper. It's a great piece of American folklore and now it's canon: Loki is D.B. Cooper [in the Marvel Cinematic Universe]. We solved the riddle."
And hence this is how Marvel totally just solved one of the biggest mysteries in American history and also kudos to the team behind the Loki series recreating this scene perfectly.
One fun fact about D.B. Cooper?
Cooper's actual name was Dan Cooper but after the hijacking when his name came into the media, one of the newspapers mentioned his name mistakenly as D.B. Cooper which was really liked by people and hence got permanently attached with his name and he got famous by the name 'D.B. Cooper'.
Hence, readers, no one is able to solve the mystery of this person in the real world till now and so D.B. Cooper remains like that 'Book whose last page is lost forever.'