The trailer for BEASTARS season 2 has landed. It surely is anticipated that the mysterious serial killer is to be revealed in season 2. BEASTARS' season 1 was a major hit showcasing the world of conflicts between two races in anthropomorphous society. Manga has ended so the content will most likely to be aggregated in season 2.
Before diving into the trailer breakdown, we should know what BEASTARS actually delivers
BEASTARS has a unique story, it is not about the predator being dominant over the prey, rather it displays what happens when the prey is constantly trying to be the dominant party. This not so orthodox arrangement, the balance between the two races is exceptional to watch. BEASTARS knits a society that is very much similar to modern-day Japan, but the anthropomorphic animals are the citizens and they are hierarchically divided into herbivores and carnivores.
There is a racial divide between these two. Carnivores are absolutely considered aggressive, brawny, and several times brutal than their weak but courteous counterparts. The discrimination can be seen inside these races as well, some belong to better species than others. The society showcased is in the grey region, it is not just clearly shown.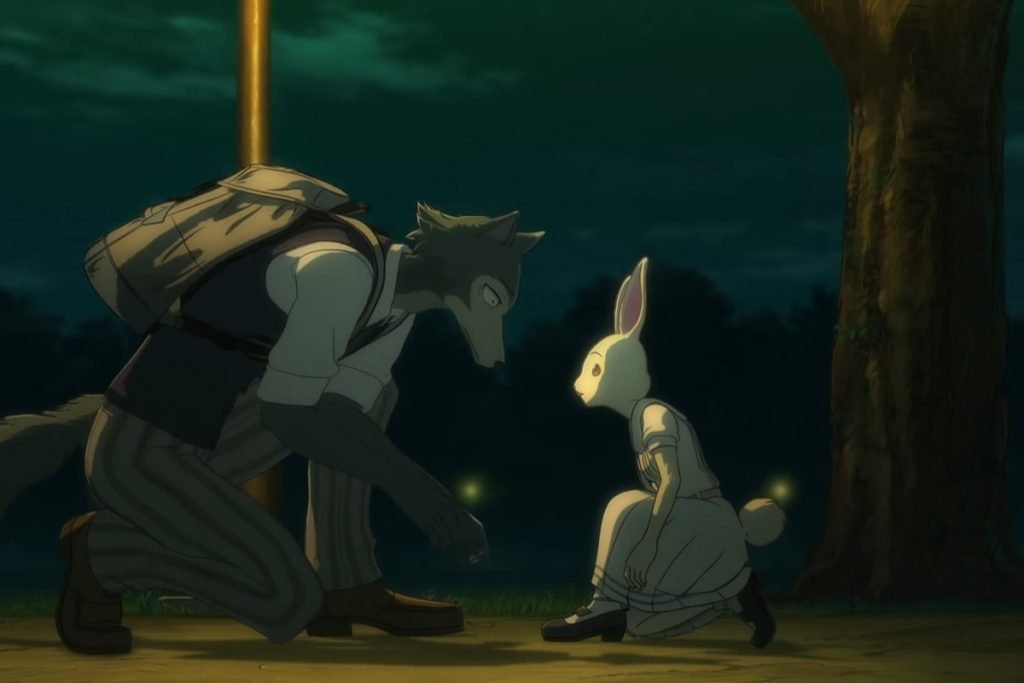 The anime mainly focuses on conflicts between students of Cherryton school. The anime mainly focuses on the character development of Legosi, Louis, and Haru. Grey wolf, Legosi(Legoshi), is the main character. He constantly has clashed with his actual sentiments. He is doubtful about himself and keeps re-evaluating himself. Legosi is isolated and shy, he discovers his not-so-known side with the audience. When his friend is murdered, he sets to look out for the murderer, then only he starts to learn about himself. Louis, the red deer, initially seems cold and unendurable but it will soon be discovered why he acts that way.
He actually is very calculated and is determined to become BEASTAR (an idol) against more violent carnivores. He believes that he has to become the change he wants to see. His idea of crafting himself a life soon help him become a lovable character and justify his doings. Haru is a complex character, someone who has not ever been promoted in anime culture before. She has a different view on life. She is a dwarf rabbit hence, is treated as a victim, but she wants everyone to change their notion about her.
BEASTARS represents so much about our own society, struggle, and darkness. You will find hens selling their own eggs. The mixture of 2D and 3D might seem a bit out of track for some. The complexity and darkness might surprise some of the viewers but it is worth your time.
BEASTARS Season 2 trailer breakdown
BEASTARS season 2 is going to come next year, airing first in Japan on January 6th, 2021 (international release date is still unknown). The latest trailer is a compilation of both scenes from season 1 and new clips from season 2. The fan-favorite characters are still there and some new beasts are also introduced, like the python which may hold the key to the true identity of Tem's killer. We may see the mysterious murderer from season 2. Louis can be seen as more rebellious. Even though Legosi had discovered his identity in the former season, there can be some more shots to this segment. Overall viewers are going to be more eagerly waiting for season 2.