Amazon Prime's animated adaptation, Invincible flawlessly referenced Saitama from One punch Man. The adaptation is based on the same name comic by Robert Kirkman (Walking Dead), Cory Walker, and Ryan Ottley (Amazing Spiderman) which was published between 2003-18 by Image Comics.
Invincible has got a lot in its pocket that makes it different from the standard superhero series. According to Kirkman, "Invincible doesn't shy away from the ugly side of massively powered super-beings going toe to toe with each other. The fact that we show, in a somewhat realistic way, just how dire these consequences are and just how savage these beings can be is very important". It departures from the standard time of most superhero cartoons with its 40 minute runtime. Above all, it is famous for paying tribute to every piece of superhero media to date. This includes Marvel, DC, Indie, and Manga.
In the 3rd run of the episodes, Invincible featured a background character that looked similar to Saitama except for some changed color preferences. He had the same bald head with a different red and yellow cape (Saitama wears a yellow and white cape). The creator, Kirkman has named the character, 'Two-Punch Man' in a Reddit AMA.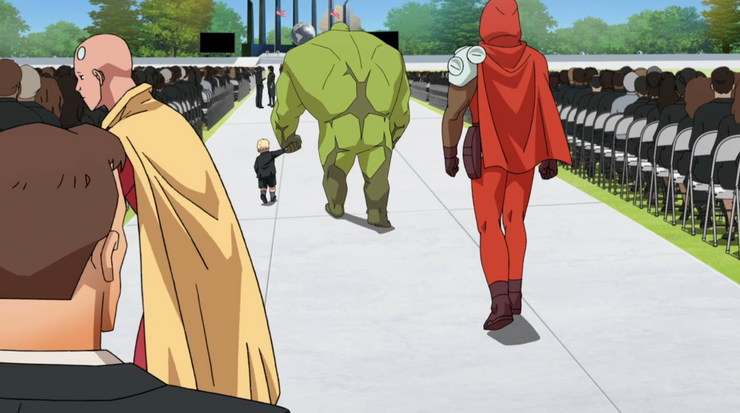 Fans point out similarities between One Punch Man and Invincible. Both of them tackle western standard superhero lore and love gore and violence. Fans believe they unintentionally draw parallels with Dragon Ball.
Invincible streaming now on Amazon Prime is an unorthodox take on the superhero genre. The series manages to provide a complex combination of somewhat familiar and a lot feel fresh material to its fans.