The former WWE Champion and legend The Rock has recently responded to Daniel Bryan's tweet on a potential contest between the two. The Great One Vs The Beard sounds a mouth-watering lineup for all professional wrestling fans. And now It seems an unprecedented match between the two is in the making. But practically we all know its completely a no-no situation.
Where it all started
Daniel Bryan took to his account earlier and joked that he always wanted to wrestle with "The Rock". After considering how many times his daughter has forced him to listen the "You're Welcome" song which is from Disney's "Moana" movie.
Daniel Bryan tweeted
The Rock later responded to the tweet and joked that he's ready to lock horns with Bryan inside that ring. Then he also congratulated Bryan and his wife, WWE Hall of Famer Brie Bella who has welcomed their new baby boy on August 1st.
The Rock tweeted:
What is the current situation and will this match happening or not?
Bryan hasn't responded to this tweet yet, but the exchange of words has sent the IWC to a frenzy. And for those who don't remember that The Rock and Daniel Bryan previously had a segment on the RAW's 1000 episode back in 2012. Where The People's Champion returned Rock to ruin Bryan's pre-wedding with AJ Lee and made fun of the couple.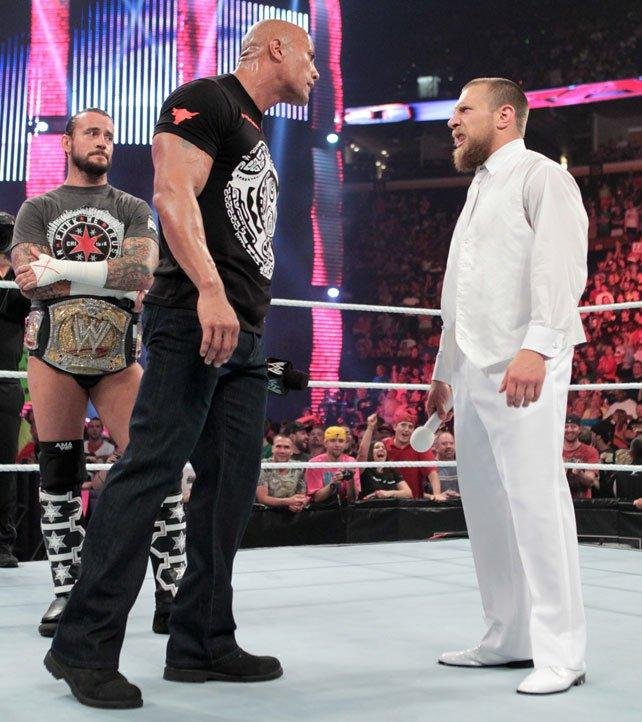 As we all know at this moment, Rock is retired from pro-wrestling and has never competed in a full-length match in WWE since 2013. As well as Bryan is enjoying fatherhood once more, and there is not much wrestling left in him. So, technically we can say that there's not much chance to see these two competing in a ring.
On a related note, WWE chairman Vince McMahon has congratulated WWE Hall of Famers the Bella Twins for welcoming the two baby boys to the family, past this weekend by tweeting the following: