On Wednesday, Tesla and SpaceX CEO Elon Musk attended a lengthy The B Word Event on "Bitcoin as a Tool of Economic Empowerment." During the session, Musk spoke with Twitter CEO Jack Dorsey and Cathie Wood, the founder, and CEO of Ark Invest, about the future of cryptocurrency, and the potential to change everything. So let's see what Musk and others said during the session.
At the conference, Elon Musk said that his companies SpaceX, Tesla, and he himself own Bitcoin, but don't plan to sell any of them at the moment. "I might pump but I don't dump," Musk said. "I definitely do not believe in getting the price high and selling or anything like that. I would like to see Bitcoin succeed."
In addition, Musk stated that he also owns some Ethereum and (of course) Dogecoin, which resulted in a price hike of both cryptocurrencies by the end of the panel. Further talking about his favorite Dogecoin, Musk explained that he finds it entertaining and ironic, and said that "The Doge community is irreverent and has great meme, love dogs and I love dogs and memes."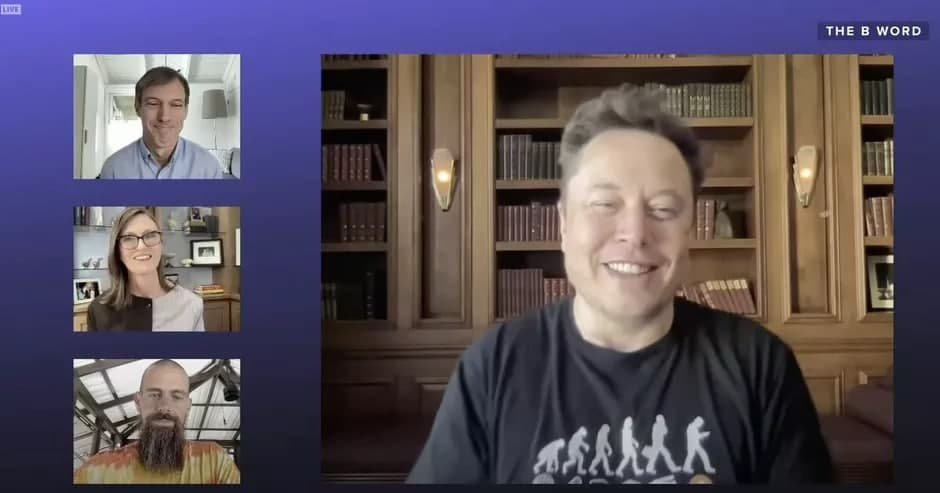 And lastly, Musk said Tesla may soon resume accepting the cryptocurrency if its mining became more environmentally sustainable. "It looks like bitcoin is shifting a lot more toward renewables and a bunch of heavy-duty coal plants that were being used…have been shut down, especially in China," said Musk.
"And if the percentage of renewable energy usage is most likely at or above 50% and that there is a trend toward increasing that number. Tesla will most likely resume accepting Bitcoin." This comes after Tesla invested $1.5 billion in Bitcoin, and stopped accepting the cryptocurrency in May due to concern about its energy use.
On the other hand, Jack Dorsey's ambitions for the virtual currency are quite high, as he said, "My hope is that Bitcoin creates world peace or helps create world peace." Dorsey also promoted his Bluesky project, which he described as a decentralized social media project that he said is still in its very early stages.
"My biggest focus right now is on a decentralized social media protocol, we're calling it Bluesky," he said. "It's super, super early."