Apple has just unveiled the new version of the world's best-selling 13-inch notebook Macbook Air. And this time the 2020 MacBook Air is powered by Apple's in-house new 5nm Arm-based M1 processor. This MacBook Air is one of the first laptops, to feature Apple's newly launch Arm-based CPUs, designed specifically for Macs.
Price and Availability of Apple's Macbook Air 2020
The new MacBook Air with M1 soc will have the same starting price i.e. $999, as the previous MacBook Air released back in March (which are is no longer listed on Apple's website). 2020 MacBook Air comes in 2 models, one with a seven-core GPU, 256GB of storage, and 8GB of RAM priced at $999 (Rs. 92,900 in India).
And second with an eight-core GPU, 512GB of storage and 8GB of RAM priced at $1,249 (Rs. 1,17,900 in India). The maxed-out configuration with 16GB of RAM and 2TB of storage will cost an extra $299.99 and $199.99 respectively. It will come in 3 color options i.e Silver, Space Grey, and Gold, available November 17th, but you can order it today on Apple Store.
Design and In-house M1 chipset
With the new 5nm M1 chip which Apple claims is the chip that offers the world's best performance per watt of any CPU, it enables your laptop to have instant wake-up speeds, so that your laptop turns on instantly as you open it. M1 chip has 4 high-performance cores and 4 high-efficiency cores. Which adds longer battery life and better performance to the new version than its prior model.
Now from the design point of view, the new Air looks pretty similar to the previous MacBook Air. It's 2.8 pounds and has almost the same dimensions as its predecessor. Its design has no fan, so it can run silently.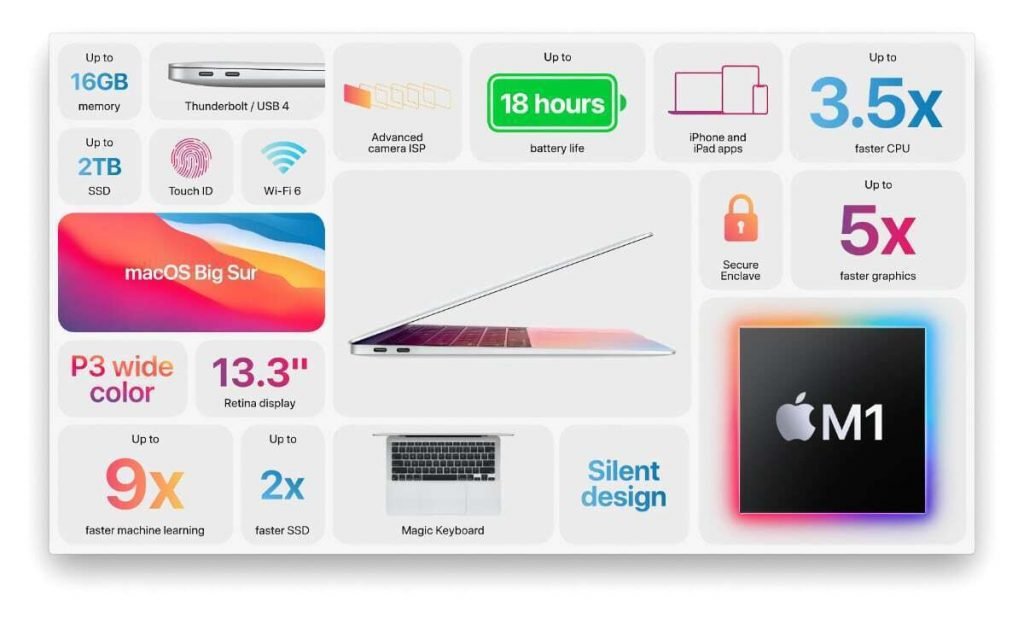 But according to Apple, this new Macbook Air is faster than "98% of PCs and laptops sold in the last year." Apple also claims that it's up to 3.5 times faster than the MacBook Air released back in March, with up to 5 times faster graphics performance, 9 times faster machine learning workloads, and 2 times faster SSD performance.
The Company also promised a 15 hours of wireless browsing and 18 hours of video playback, which makes it the longest battery life of any MacBook Air.
Specification of Macbook Air 2020
Now in terms of specs, as we reported previously the new Macbook Air comes with the same 13.3-inch 2560 x 1600 Retina display with P3 wide color gamut support and has 400 nits of brightness, a backlit Magic Keyboard and with max-out 16GB of memory and 2TB of storage.
And has two USB-C ports that support charging, DisplayPort, Thunderbolt 3, and USB 3.1 Gen 2, as well as a headphone jack. Apple's also added some of the function keys on its new MacBook Air, in which one is Spotlight, and the other two are Do Not Disturb and Dictation.
2020 Macbook Air will have the same 720p camera as its predecessor but will deliver better results thanks to the M1's new image signal processor (ISP), which will improve the noise reduction, auto white balance, and face detection.
This release is the first step in Apple's transition away from Intel processors, which Apple have used since 2006.